NOTAMs.
The NOTAM system supplies you with up-to-date flight information. The system is designed with convenience in mind, showing you NOTAM areas on the Moving Maps and allowing you to hide NOTAMs that you decide to be of no concern to you. This greatly reduces the required reading before flight, especially if you keep up a bit! PocketFMS NOTAMs can be downloaded as often as you need without extra charges.
REGIONAL LIMITATIONS: The NOTAM system provides only partial coverage outside Europe and Australia due to a data source limitation and should therefore not be relied on for completeness in other regions. Details are found here.
EasyVFR Basic versions only include NOTAMs for their respective FIRs.
NOTAM System.
The top part of the NOTAM tab is reserved to allow you to select which NOTAMs in general are considered of interest by you. By pressing the Manually Download button you download the NOTAMs. EasyVFR will also download an update automatically if the existing set of NOTAMs is older than 2 hours. The download progress is shown in the button, orange for downloading and green for decompressing.

- NOTAM Alerts
The [NOTAM Alerts] button allows you to receive alerts when a new NOTAM is published for your area. This is a very helpful feature when you fly very often and in the same region, e.g. when you are a flight instructor. First tap [Enable alerts] to switch the alerts ON. Then define your preferred location and a radius around and altitude above it. From now on you will receive push notifications on your device (and smart watch) whenever a new NOTAM is published in that area. Beware you do need an active internet connection to make this feature work. (This feature is not available in EasyVFR Basic UK).
- Show NOTAMs on Map.
Via the [Show NOTAMs on Map] selector you can decide whether or not you wish to have the NOTAM information plotted on the Moving Map. NOTAMs will be drawn as purple circles with the word 'NOTAM' on them. If usable coordinates are found in the NOTAM text, EasyVFR will plot that NOTAM twice; once as a circle, and once according to those coordinates.
Advanced Filter Settings.
Using Show advanced filter settings you can enable filters to compress your NOTAM briefing and only receive the NOTAMs that deserve your attention.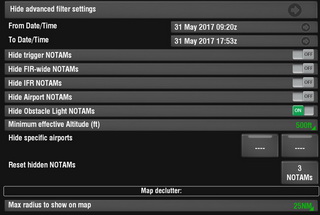 - From/To DateTime.
Using the selectors [From Date/Time] and [To Date/Time] you can set the specific range in which NOTAMs have to be active for EasyVFR to use them. NOTAMs that are not active within the timeframe you set here will be ignored. If you lateron modify these settings, these hidden NOTAMs will return - they are only filtered out.
- Trigger NOTAMs.
Trigger NOTAMs serve to alert those who maintain aeronautical databases that specific changes are approaching; they are generally of little use to pilots. You can use the [Show Trigger NOTAMs] control to enable these anyway.
- Head Office NOTAMs.
The Show Head Office NOTAM button is only displayed to Australian users. Like Trigger NOTAM, HO NOTAMs are largely administrative and generally of little use to pilots.
- FIR wide NOTAMs.
FIR wide NOTAMs have a radius that encompasses or even exceeds the FIR's boundaries and aren't always of much use to a pilot. An example of such a NOTAM can be a list of mobile oil rigs that are moved about nationwide. The [Show FIR wide NOTAMs] control allows you to either show or hide these.
- Airport NOTAMs.
The counterpart of the FIR wide NOTAMs would be the Aerodrome NOTAMs; these are only valid for one single airport. An example of such a NOTAM can be a comment on the airport's runway lights. The [Show Aerodrome NOTAMs] control allows you to either show or hide these.
- Obstacle Light NOTAMs.
This switch enables you to filter out NOTAMs concerning changes in obstacle lighting, which is especially useful in regions where frequently new windmills and antennas are built (e.g. Germany) which can clog up your NOTAM list with endless mentions of the new windmills not being lit up (yet).
- Minimum effective altitude.
Set an altitude limit below which NOTAMs will not be displayed. It only takes into account upper limit, i.e.: when you select 500ft, a NOTAM GND-400ft will be hidden for your convenience.
- Reset hidden NOTAMs.
A powerful feature of EasyVFR is its ability to hide NOTAMs that you have indicated not to be interested in. Should you at any point in time regret to have hidden some NOTAMs, this control allows you to reset them all at once. Once you have hidden one or more NOTAMs, the number of hidden NOTAMs will be displayed on this feature's button.
NOTAM Briefing.
Once NOTAMs have been loaded, EasyVFR can provide you with 2 distinct types of briefings: FlightPlan-based or Location-based. The Location-based briefing is available as long as you don't have an active FlightPlan; soon as you have created or loaded a FlightPlan, only the FlightPlan-based briefing will be available.

Either type of briefing will show you the available NOTAM information, where each NOTAM is separated from the next by a horizontal white line. The NOTAM's header text is usually in light blue; an orange header indicates the specific NOTAM is no older than 24 hours. The Less and Display buttons are set forth below.
NOTAMs in a briefing are ordered with new NOTAM (orange) first, followed by older NOTAMs (blue). Within each group, NOTAM are ordered by location ID.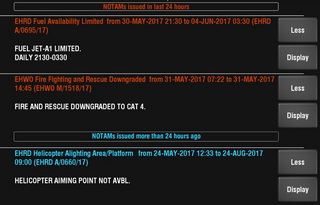 - Hiding NOTAMs.
A very potent feature is the ability to hide NOTAMs that do not concern you. This dramatically reduces the number of NOTAMs you have to work through before flight, in particular if you make it a habit to scan the NOTAMs frequently, hiding the ones you can do without.
In either briefing type you'll see a list of available NOTAMs, each with a Less button that you can tap if you have read that NOTAM and have determined that it is of no particular interest to you. The white NOTAM text will be hidden, but its header will remain in the list, now initially with a Hide button.
This Hide button will only live for a few seconds before changing into a More button, which will again reveal the NOTAM's content when pushed. However, as long as the button is reading Hide, tapping it will completely remove the NOTAM off the list, off the map, out of all consideration - forever, until you decide to [Reset hidden NOTAMs].
- Displaying NOTAMs on the map.
With each NOTAM in the NOTAMs List, there's also a Display button. This button allows you to quickly determine the location on the map the NOTAM is meant for, plus its effective radius. When the Display button is pressed, the NOTAM tab is closed and the map will pan to the location. The NOTAM is plotted as a circle on the map, but if usable coordinates are found in the NOTAM text, EasyVFR will attempt to draw these as well.
Sometimes a NOTAM is not suitable for plotting on MAP, these will be marked with a red banner on the left side.

- FlightPlan-based briefing.
The FlightPlan-based briefing is only available when a FlightPlan is active. Via the [Path width] control you can set how many NM alongside your planned track NOTAMs are to be included in this briefing. The default setting of 10 means that NOTAMs that have a center point up to 5 NM left and right of your planned leg will be considered, others will be omitted.
NOTAMs you marked as hidden will not be included in the briefing.
- Location-based briefing.
The location-based NOTAM briefing is only available when no FlightPlan is active. This type of NOTAM briefing will give you the NOTAMs that are situated within a certain radius around a specified point. You get to specify where that center point is located once you tap the [Center:] control. The NOTAM tab will close, and you can indicate the center point by tapping the Moving Map. The airport nearest to the location you tapped will be used.
The [Radius] control allows you to set the range in which EasyVFR should search around the center point; all NOTAMs that fall within the set range will be considered, all others will be ignored.
NOTAMs you marked as hidden will not be included in the briefing.