EasyVFR 3 for Windows 7, 8, 10 & 11.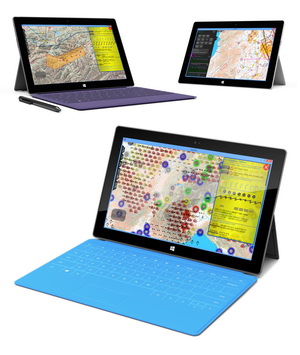 EasyVFR 3 for Windows is the first flight planning and moving map system for Windows which was designed from the ground up for touch screen devices. While EasyVFR for Windows can easily be controlled with a traditional mouse, you can now reach out and prepare your flight directly on the screen with your finger using an interface that was designed to be touched.
Of course all the features that you've grown to know and love in EasyVFR 3 are included in the Windows version, such as our Electronic Flight Bag (EFB) with georeferenced approach charts, our advanced NOTAM filtering, our unique hour by hour aviation weather forecasts, our 3D look ahead mode, our auto route finder, the TripKit and our safety enhancing relative terrain. EasyVFR for Windows also allows our Dynon users to use our Electronic Flight Bag and georeferenced charts in their Dynon SkyView systems - here's the How-To!
The PocketFMS Cloud will link all your devices to EasyVFR for Windows, ensuring that changes on one device are reflected on the either, including your NOTAM briefing!
Reach out and touch EasyVFR 3 on your Windows device, available to PocketFMS Frequent Flyer Members (FFM) exclusively. Known issues, feedback & bug reports are handled via our forum.